What I did: Change the date of notes (moving to the past).
For example, there are two entries in one note: one is the Jan. 24 and the other is Jan.28. I tried to change the date "Jan 28." to "Jan 18".
What happened: The popup of "Date conflict" appeared, but there is only one selectable option.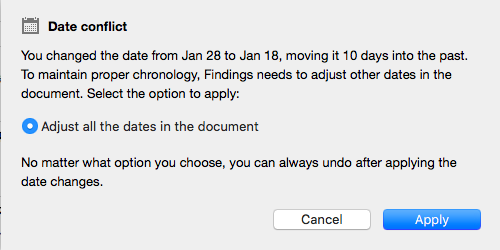 What I expected: Is it specification?
I think the other option such as "Not adjust other dates (only change this date)" will be needed.
Things that might be helpful to know (Findings version, OS and model, etc):
findings version : 2.0 (5207.13ce0840)
OS: macOS High Sierra 10.13.3