If you feel adventurous and/or curious, if you like to help us make Findings even better, then help us beta test Findings.
A word of warning regarding testing beta versions

While we are careful, mistakes do happen or unforeseen bugs do enter. If you decide to try out a beta version of Findings, always keep in mind that this is prerelease software and you should therefore keep regular backups and not rely on the beta version if you rely on the app for important experiments and meetings, essential notes, close deadlines, etc.
Getting the beta version
You can get access to the beta program by following these steps:
In the menu Findings, choose the item Preferences…
Select the Options tab
Checking the box to include pre-release and beta versions in update notifications (see screenshot below)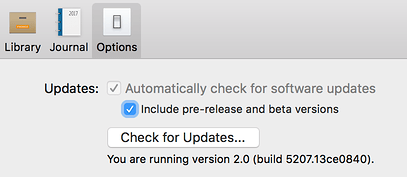 ---
Frequently asked questions
Who can try the beta versions?
Everyone can try the beta versions of Findings. But again only do so by taking the precautions mentioned above, and are aware of the risks.
What should you do if you encounter an issue or run into problems?
Please report them to us. Either here in the Beta section of the forum, or by sending an email.
Make sure you clearly mention you are using the beta version and provide as many details (descriptions, screenshots, example files) etc.
How long will the beta version be tested before it is released as non-beta?
That's hard to tell, some beta cycles can be short (a few days), others longer (a few weeks). In general though we try to keep it as short as possible and get it to you as soon as we can*.
What if I want to switch back to the regular version?
You can simply download the current version from our website again and use it to replace the beta.
Thanks!
We would like to thank everyone who is willing to help us beta test Findings and make it even better!
Charles